80% of businesses use social media for marketing, but only 37% say they have a social media strategy.
Digital Marketing -Lead Generation:
Businesses cannot survive without customers, and lead generation is one of the first steps in acquiring them. Digital marketing is the ideal way to generate leads online, and automation helps streamline the process and save time.
So, if you're a …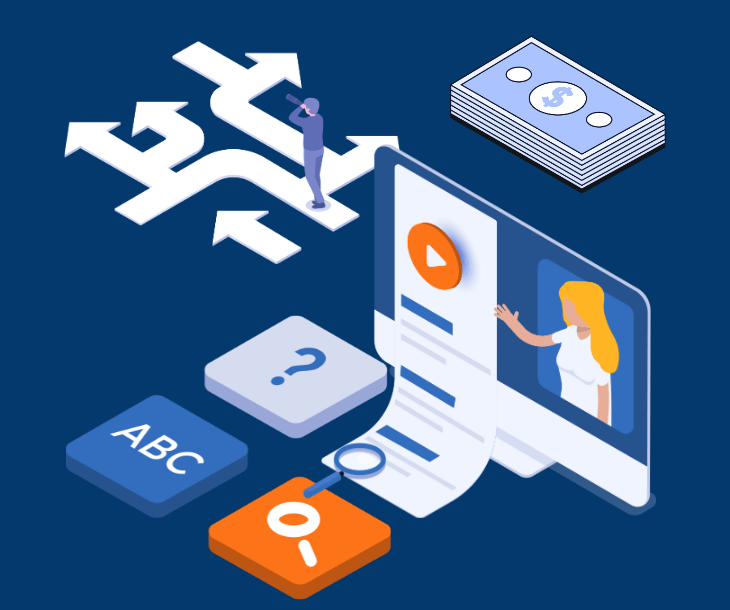 Disclaimer: This article may include affiliate links, which means we may earn a small commission if you click on them and make a purchase. Your support helps us continue providing valuable content.
Digital Marketer, Freelancer, and Small Business Owner...
And are tired of using 2010 lead-gen and marketing tactics that aren't getting you results...then do yourself a favor and pick up these digital marketing strategies. You'll save time, earn more, and reduce stress and frustration?
Today is the day to say goodbye to the old, antiquated way of generating leads and marketing ...the slow and hard way.
Reading and executing the tips in this post will change your business FOREVER!
Whether you are just starting out or looking to take your business to the next level, this article will give you the tools and knowledge you need to capture the perfect leads with ease.
Let's get started…
What is Lead Generation in Digital Marketing?
Lead generation in digital marketing is the practice of attracting then converting strangers into prospects. Prospects are potential customers who has shown interest in your company's product or service. This is an essential part of every digital marketing strategy, as it helps businesses to create a pipeline of potential customers who are more likely to purchase from them now or in the future.
How do you Create a Digital Marketing Strategy for Lead Generation?
Identify your target audience.
Who are you targeting? What are their needs and pain points? Once you identify your target market, you can modify your messaging and content to appeal to them.
Establish your goals.
What do you want to accomplish with your lead generation strategy? Are you looking to increase the number of website visitors, increase website visibility, generate email subscribers, or schedule more demos? The more specific the better.
Decide which platform.
There are many different digital marketing channels that you can use to generate leads, such as video marketing, content marketing, SEO, social media marketing, and email marketing.Choose the channels where your audience like to hang out.
Create high quality content.
One of the best ways to attract and convert leads is to create engaging content that is relevant to their interests. This could include videos, PDF's, blog posts, articles, or infographics.
Market your content.
Now that you've created content, next you'll have to promote it. You can achieve this through your desired marketing channel.
Acquire leads.
Once you have attracted people to your site, you must capture their contact information. Next, nurture them through the automated sales funnel.
Nurture your leads.
Once you have accumulated leads nurture them through the sales funnel. Continue by providing them with more information about your products or services and building a relationship with them.
How to Start Lead Generation and Automate with GoHighLevel?
GoHighLevel is a non-tech automation tool that can help you dump dated marketing tactics and get more leads and sales. With GoHighLevel, you can automate your entire marketing funnel, from lead generation to sales.
Here are just a few of the things you can do with GoHighLevel:
Create and manage landing pages and websites

Send email marketing campaigns

Send SMS marketing campaigns ·

Automate your social media marketing

Manage your sales pipeline

And much more!
If you're serious about growing your business WITH EASE, then you need to check out GoHighLevel. It's the all-in-one marketing automation platform that can help you take your business to the next level.
"In the video below, I'm going to show you how to use 5 top GoHighLevel automation features that you will LOVE! You'd never imagine growing your digital agency would be so easy. Use these tactics to get more leads and sales."
5 High-level Features and Workflow Automation for Small Businesses
· Missed Call Text Back

· Unified Conversation Platform

· Automating Social Media

· Website Builder

· Mobile App
Missed Call Text Back
Over 5 billion people send text messages every day, and 80% of potential leads never respond to voicemail. That doesn't mean you should never leave a voicemail, but text messaging is a killer in today's marketing mix.
By using GoHighLevel's missed call text back feature, you can capture more leads and close more deals
Ready to turn flips? Just imagine this: You're a small business owner (SBO) or digital marketer and you're running a promotion. A caller calls and you receive a notification that someone called but didn't leave a message.
With the Missed Call Text Back feature, you can automatically send a text to that person saying something like, "Thanks for calling [caller's name]! We missed your call, but we'd love to hear from you. Please text us back your name and number and we'll get in touch right away."
Yes, you read that right. In essence, you're capturing leads you'd have otherwise missed. Most people are more likely to text back than to listen and respond to a voicemail. Boya!!!
Unified Conversation Platform
As a busy SMO or marketer, you're busier than a four-eyed fly. And if you're good at your craft, then you understand the importance of being on multiple platforms. But there's one MAJOR catch with that: Now you must maintain all conversations from the different platforms, per client.
Here's where automation comes in to save the day. With a Unified Conversation Platform, you can manage your customer's conversations in one place, regardless of the channel they're using. This includes phone calls, text messages, emails, live chat, social media, and Google Business Profile.
Where I grew up, we call that a game-changer!
Automating Social Media
Although 79% of businesses use some form of social media marketing, only 37% have a strategy.
There's an old saying that I agree with, and that is "Strategy over Strength, Coach Prime proved that!"
Putting automation behind your social media output saves time, increases consistency, and improves productivity. This leads to more followers and engagement.
Website Builder
Since this is the day of voice search and other mobile assistants, websites are no longer optional—they're a MUST. Customers do not trust businesses that don't have a website, and businesses don't either. Although websites should be top of mind, it doesn't mean you have to spend fourteen trillion dollars for a functioning site.
Yes, you are judged by your cover, but that's only a part of it. Just like dating, you can attract a partner with war paint, but you will need all the other stuff to keep them! An aesthetically pleasing website is needed, but that can be accomplished using an easy-to-follow website builder.
With a Website Builder, you can create a professional-looking website without any coding experience. There are many different website builders available, look for one that's right for your budget, ease to use and needs.
Mobile App
I bet you didn't know that 77% of Americans use smartphones and 85% of them use apps.
So, what does this have to do with mobile apps and your small business? EVERYTHING.
Mobile apps are a great way for your customers to connect with their clients. Businesses with apps increase the likelihood of return visits more than 15%. Mobile apps also provide convenience and keep your company name top of mind to your customers.
These are just a few of the high-level features that digital marketers and small business owners are raving about. If you're not using these tools, you're missing out on a big opportunity to improve your business.
Ready to take your digital agency to new heights? Learn how GoHighLevel's top-notch automation features can revolutionize your business! Discover the secrets behind effortless lead generation and skyrocketing sales in this exclusive video.
4 Different Types of Lead Generation
There are many different ways to generate leads online, including:
Content marketing: Create and share valuable, relevant content that your target audience will love. This could be blogging, articles, white pages, TikTok videos, or even PDF's. The more helpful and informative your content is, the more likely people are to share it and become leads.
SEO: Optimize your website and content for search engines so that potential customers can find you when they're searching for the products or services you offer. This involves using the right keywords and phrases throughout your website and content, and making sure your website is technically sound.
Social media marketing: Use social media to connect with potential customers and promote your products or services. Share your content, engage in conversations, and run social media contests and giveaways.
Email marketing: Collect email addresses from potential customers and send them regular email newsletters with valuable content and offers. Email marketing is one of the most effective marketing methods there is. It's been around for a year, and it still works!
Conclusion
if you're looking for effortless digital marketing lead generation automation ideas in 2023, look no further! The tips in this article will help you save time, earn more, and reduce stress and frustration.
Here's a quick recap of the five effortless digital marketing lead generation automation ideas we covered:
Set up automated lead capture forms on your website. This is a simple way to collect contact information from website visitors, even when you're not online.
Use email marketing to nurture leads and turn them into customers. You can automate your email marketing campaigns so that leads receive targeted messages at the right time in their buyer's journey.
Use social media automation to reach a wider audience and generate more leads. You can automate tasks like scheduling posts, posting user-generate content, and engaging with followers.
Use LinkedIn Sales Navigator to find and connect with qualified leads. LinkedIn Sales Navigator is a powerful tool that can help you identify and reach out to potential customers.
Use a CRM system to manage your leads and track their progress. A CRM system can help you keep track of all your leads and their interactions with your business.
By implementing these tips, you can automate your digital marketing lead generation process and save yourself a ton of time and effort.
Digital Marketing Lead Generation