Only 14% of affiliate marketers have 10,000 or more followers on social media. This means that many affiliate marketers are successful without having a large following. --HubSpot
High Commissions Affiliate Marketing Tips for Newbies:
Getting started in high ticket affiliate marketing as a beginner can be intimidating. What's worse is getting started selling high commission affiliate products and services can be even more scary.
Of course, when entering any new endeavor, fear and self-doubt take center stage, in this case especially if you're an affiliate marketing novice.
Affiliate marketing is an intangible process. Many people don't understand how the process works or how to make money, it seems like osmosis.
In this article....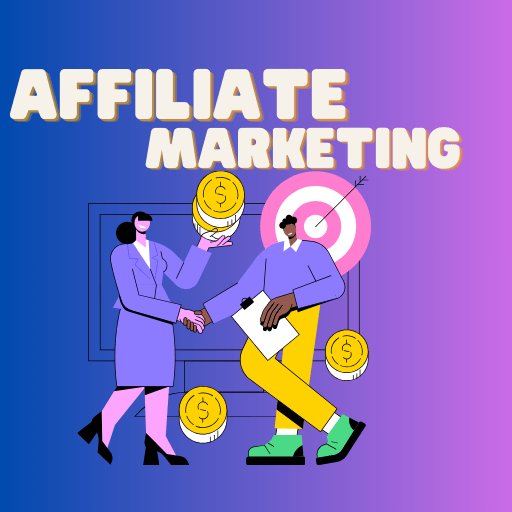 Disclaimer: This article may include affiliate links, which means we may earn a small commission if you click on them and make a purchase. Your support helps us continue providing valuable content.
... we will discuss the genuineness of the affiliate marketing industry. Next, we'll break down the magic of choosing top-notch, top-of-the-line products and services.
Whether you're setting foot into the affiliate marketing world for the first time or seeking to elevate your existing ventures, this post is your gateway to uncovering how High-Ticket Affiliate Marketing can propel your income growth with unparalleled ease and velocity.
Affiliate marketing is often misunderstood, but it's actually a very common practice. We all do it every day, even if we don't realize it.
For example, when you recommend a favorite restaurant or movie to a friend, and they go and see it, you're essentially an affiliate marketer for that restaurant or movie theater. If only the movie theater sent you a check for referring them, that would be affiliate marketing.
If you haven't heard about affiliate marketing, you're probably wondering what all the fuss is about.
"Here's a simple analogy…
Affiliate marketing is like being a matchmaker in the online world. Companies, of all sizes, have products or services they want to sell.
"Now, imagine you're that friend who recommends a fantastic seafood restaurant to your friends. If they go and have a great time, the restaurant might give you a small thank-you gift."
Well, affiliate marketing is kinda like that, but online. You recommend a product through a special link, and if someone buys using your link, you get a small commission. It's like spreading the word and getting rewarded for it.
Sign up for a FREE Trial for one of the best High-ticket affiliate marketing companies that offers great support and easy to follow training videos.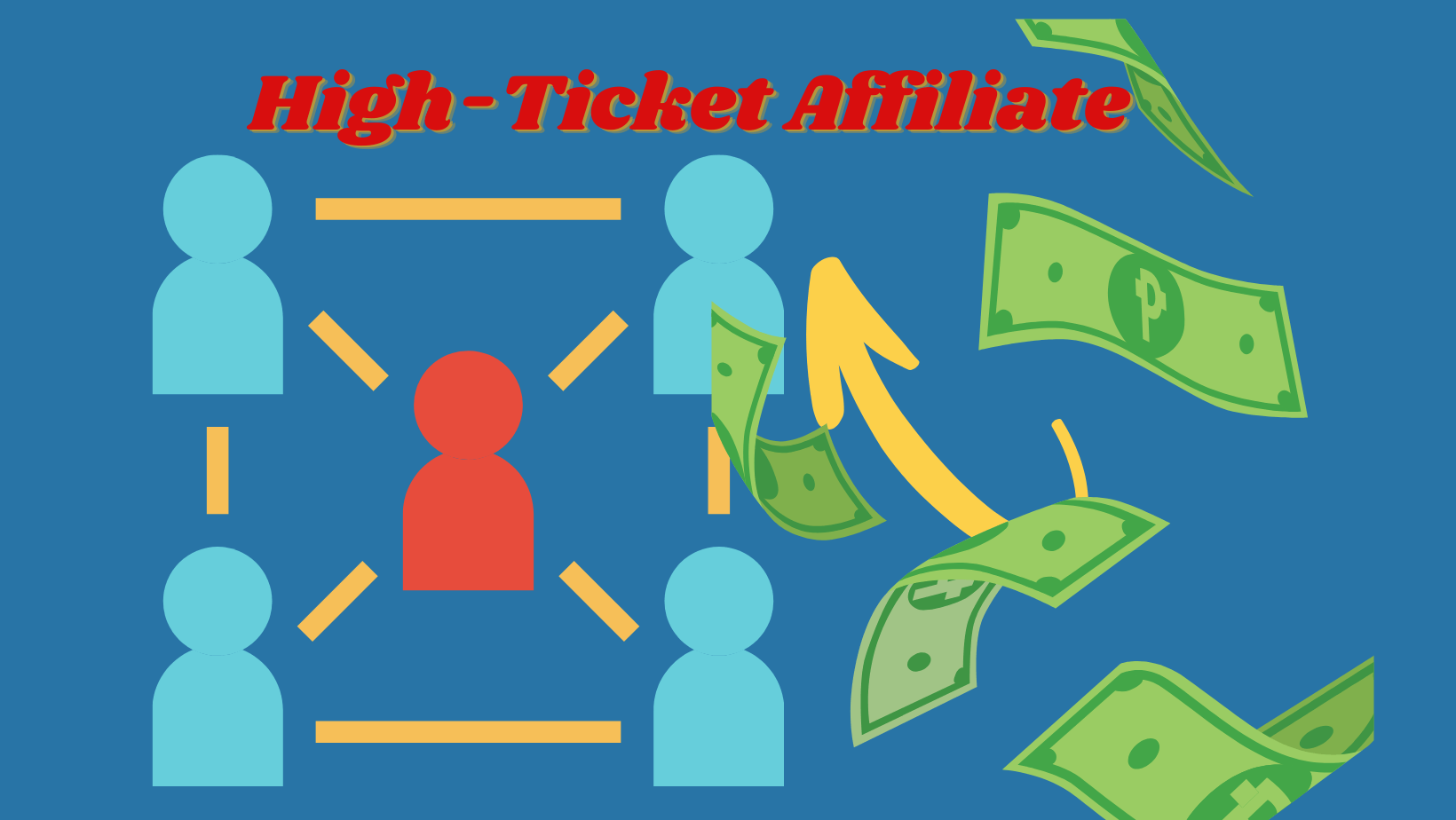 Making sense of affiliate marketing
Picture yourself as an influencer in a world filled with options. You have a platform, whether it's a blog, social media account, or a website.
People trust your taste and opinion. Now, affiliate marketing is all about leveraging that trust.
You partner up with companies whose products align with your brand and interests. You share these products with your audience, and if they decide to buy based on your recommendation, you earn a little something for the referral. What's better it that with high commission affilate programs you can earn BIGBUCKS!!!
In essence, affiliate marketing or referral marketing as it is often called is a way for individuals to monetize their influence and help others discover awesome stuff.
According to a recent survey by Forrester Consulting, 83% of advertisers say that affiliate partnerships drive better customer insights and improve customer retention rates in the long run.
What is a high-ticket affiliate marketing?
Contrary to popular belief, big-ticket affiliate marketing isn't just about selling expensive products and making substantial commissions. It represents an approach where affiliate marketers strategically promote products or services that come with a significant price tag.
And consequently, pays higher commission rates. However, the real essence lies in the value exchange. Premium products often address sizable pain points or provide solutions to critical problems in a person's life or business.
As an affiliate marketer, delving into the sphere of big commission items means exploring sophisticated markets where trust, authority, and relationships building play pivotal roles.
It's about fostering genuine connections with your audience, understanding their needs deeply, and positioning top-tier offerings that truly bring transformative value. It's not just about making a sale; it's also about crafting a meaningful experience and nurturing both the audience and the businesses you're affiliated with.
In this paradigm, the focus shifts from the transactional nature of selling to a consultative approach. Affiliate marketers or partner affiliates become advisors, guiding potential buyers through the complexities of high-ticket purchases.
Understanding the nuances of these premium offerings, articulating their unique value propositions, and demonstrating how they can truly enhance the buyer's life or business becomes essential.
High-value affiliate marketing is about being a trusted bridge, connecting those seeking valuable solutions with the products or services that can genuinely elevate their experiences. It demands a thorough understanding of the market, effective communication, and the ability to build credibility to effectively convey the worth of these high-value offerings.
How to Get into High-Ticket Affiliate Marketing:
Selecting high-priced affiliate marketing starts with identifying a niche you're passionate about that offers expensive products or services. Next, join an affiliate program also known as a partner affiliate, focus on reputable companies that offer generous commission rates.
Build a content platform or leverage existing channels to promote these elevated-value offerings effectively. Establish trust with your audience, showcasing the genuine benefits of the products and guiding potential buyers towards these valuable solutions.
Affiliate Marketing Products to Sell (and the Recurring Business Model):
When diving into affiliate marketing, it's wise to focus on products or services that offer a recurring revenue model. Look for subscriptions, memberships, or software-as-a-service (SaaS) offerings that customers pay for on a regular basis.
These can include anything from subscription boxes and online courses to software tools and digital services. The advantage here is that you not only earn a commission for the initial sale but also receive ongoing commissions as long as the customer continues to subscribe or renew their membership, creating a sustainable and potentially lucrative income stream.
Affiliate Marketing for SaaS (Software as a Service):
Affiliate marketing with SaaS products can make you a lot of money because technology is trending and customers are seeking digital solutions.
Here's what to do: first gain a working knowledge about SaaS. Then select a product or products that aligns with your core belief. Next, sign up for free, most SaaS companies offer free trials.
Lastly, start promoting your product or services. Share stories of how it helps in real life, share how-to guides.
Here are a few examples of Saas Companies
How to Make Money with Affiliate Marketing:
To make money with affiliate marketing, start by choosing a niche you're passionate about. Join affiliate programs related to that niche, promote products or services through unique referral links, and earn commissions for each sale or action generated through your referrals. Consistent, targeted promotion and understanding your audience are key to success.
What is Cookie Duration in Affiliate Marketing:
Cookie duration in affiliate marketing refers to the timeframe during which a tracking cookie is stored on a user's device after they click on your affiliate link. This cookie allows you to earn a commission if the user completes a desired action (e.g., making a purchase) within the specified duration, which typically ranges from a few hours to several months. The longer the cookie duration, the more time you must earn a commission from the user's actions.
Do I Need an LLC for Affiliate Marketing:
You don't necessarily need an LLC (Limited Liability Company) to start affiliate marketing. You can begin as a sole proprietor and later consider forming an LLC for legal protection and tax benefits as your affiliate marketing business grows. ***NOTE. We do not offer legal advice, hence advise you to consult with a business advisor or legal professional who can help you make the best decision, based on your desire.
Best Traffic Sources for Affiliate Marketing:
Frankly, the best traffic source depends on the person. It's always good to play to your strengths. Many people would say paid ads, but until you get more experience, you may spend more than you make.
Some of the better traffic sources for affiliate marketing are:
Affiliate Marketing Videos
Video marketing is using videos to promote or market a product, service, or brand. It is a powerful tool that can help you reach your target audience, engage them, and drive them to take action.
3 Types of Affiliate Marketing Videos:
Informational videos: Provide value to viewers by teaching them something new. For example, a product review or how-to video.
Transactional videos: Encourage viewers to take specific action, such as buying a product or signing up for a service. For example, a sales video or call to action video.
Explainer videos: Explain a complex product or service in a simple and engaging way. For example, an animated explainer video or a customer testimonial video.
Why Video Marketing is Key for Affiliate Marketing:
Benefits of Videos for Affiliate Marketing
Are more engaging than other types of content.

Helps you build trust and credibility with your audience.

Increase sales and conversions.

Great for explaining complex products or services in a simpler
Example of an informational affiliate marketing video:
Learn Everything You Need to Know about GoHighLevel.
This video is a great example of an informational affiliate marketing video because it provides information to viewers by sharing what GoHighLevel offers. It is also engaging and well-produced, which will help to keep viewers watching.
Free Traffic Sources for Affiliate Marketing:
Affiliate Marketing Without a Website:
Yes, affiliate marketers of all income levels can build their business without websites. Most affiliate companies offer a wide range of products and ad creatives for affiliates to promote.
You can choose the type of marketing you are interested in and do affiliate marketing without a website by using social media platforms, email marketing, or creating content on third-party sites. Promoting affiliate links directly through these channels allows you to engage with your audience and drive traffic to the affiliate offers.
Can You Do Affiliate Marketing Without Social Media:
Absolutely! You can engage in affiliate marketing without using social media by focusing on other platforms and advertising mediums. You can also use a hybrid system. Don't forget about off-line marketing strategies.
Like:
Radio

TV ads

Direct marketing

Billboards

To name a few.
How to Start Affiliate Marketing With no Audience
There is no shortcut to building an audience. Even those who have a following more than likely follow the same routine: you must build your audience. Just like every entertainer, celebrity, or sports player, people follow people. So, now that you know that you must build your audience…
Let's get the party started!
5 Simple Steps for a Newbie to Build an Audience:
#1. Choose a niche that you're passionate about and knowledgeable in.
#2. Create high-quality content that is relevant to your niche.
#3. Promote your content on social media, forums, and other relevant platforms.
#4. Build relationships with other people in your niche.
#5. Be patient and persistent.
How to do Affiliate Marketing Without Followers
This answer is the same as with no audience. The process is the process. Roll up your sleeve and get busy. If you lack skills, there are plenty of videos, articles, and other information on the world wide web that you can choose from.
Don't be afraid to ask for help. If you're struggling to get started, ask for help from other affiliate marketers. There are many online communities and forums where you can ask questions and get advice from other experienced marketers.
Be patient and persistent. It takes time to build a successful affiliate marketing business. Don't get discouraged if you don't see results immediately. Just keep creating great content, promoting your content, and building relationships, and you will eventually start to see results.
Remember, everyone starts with zero.
You can also reach out to me with any questions you may have. Leave a comment on this post or on my YouTube channel.
How to Create a Blog for Affiliate Marketing
#1. A blogging platform. There are many different blogging platforms available, such as High Level, WordPress, and Blogger. Choose a platform that is easy to use and has the features that you need.
#2. Choose a domain name and hosting provider. Your domain name is the address of your blog on the internet. Your hosting provider is the company that stores your blog's files and makes them accessible to visitors, such as:
#3. Install a WordPress theme. WordPress themes control the look and feel of your blog. There are many free and premium WordPress themes available.
#4. Write high-quality content that provides value to your audience. Your content should be informative, engaging, and relevant to your niche.
#5. Include affiliate links in your content. When you mention a product or service in your content, you can link to your affiliate page. This will allow your readers to learn more about the product or service and make a purchase, as an example Click Here
According to research bloggers who publish at least 16 blog posts per month earn an average of $2,000 per month. This shows that you can generate a significant income from affiliate marketing by blogging regularly.
Stats Attack

According to a report by Statista, the affiliate marketing spending in the United States alone is expected to reach around 8.2 billion U.S. dollars by 2022.

Only 14% of affiliate marketers have 10,000 or more followers on social media. This means that many affiliate marketers are successful without having a large following.

Organic search traffic is the top traffic source for affiliate marketers. This means that you can get traffic to your website and generate sales even if you don't have a social media following.

86% of consumers say they would be more likely to buy a product after watching a video about it. (Wyzowl)

95% of marketers say video content is important for their business. (Wyzowl)

72% of people would rather learn about a product or service by watching a video than reading about it. (HubSpot)
FAQs
Is affiliate marketing hard?
Affiliate marketing can be challenging, but it is not impossible. It requires hard work, dedication, and a willingness to learn. Just like any other industry, job, or business!
Is affiliate marketing a pyramid scheme?
No, affiliate marketing is not a pyramid scheme. Pyramid schemes rely on recruiting new members to generate profits, while affiliate marketing relies on promoting products and services.
The Amazon Affiliate Program is one of the largest and most popular affiliate marketing programs in the world. It allows affiliates to earn commissions by promoting Amazon products on their websites and social media channels.
The fact that big brands like Amazon use affiliates to market their businesses is a testament to the validity of the affiliate marketing industry. Affiliate marketing is a legitimate way for people to earn money online, and it is a valuable tool for businesses to reach new customers and increase sales.
Is affiliate marketing legal?
Yes, affiliate marketing is legal in most countries. However, there are some affiliate marketing programs that are scams, so it is important to do your research before joining any program. Always do your due diligence, check with your state or country's official website for updated information.
Conclusion
Overall, high-ticket affiliate marketing is a great way to generate a significant income online. However, it is important to note that it takes time and effort to build a successful high-ticket affiliate marketing business. The key is to select a company that offers helpful easy implementation strategies, and superb support.
A good high ticket affiliate program offer resource such as:
An online community:
Joining a community can give you access to support, advice, and resources from other successful marketers.
Offers a good training program.
A good training program will teach you everything you need to know about marketing your product or services.
If you are willing to put in the work, big-ticket affiliate marketing can be a very rewarding experience. The link below can help you get started:
If you are serious about building a successful highticket affiliate marketing business, I encourage you to invest in yourself and your education. There are many great resources available to help you learn more about high-ticket affiliate marketing and how to be successful.
👇 👇 👇
Sign up for a FREE Trial for one of the best affiliate marketing companies that pay big buck.. They offer recurring commission structure and a super supportive staff to help you succeed.